New CBD variety in the making
Bedrocan's Research and Development (R&D) department has started a development process in search of a new variety that meets the pharmaceutical industry's demand for cannabis containing CDB. This new plant has to contain a high percentage of CBD and produce as many dried buds as possible after harvesting. With this aim in mind, a breeding programme with various hybrids has been started at the R&D location in Veendam to obtain new genetic material. The first results are already in, and according to Bedrocan's plant expert Hugo Maassen, they are promising.
"The breeding programme has now yielded its first seeds. The next step is to germinate them and grow them into adult plants. A quarter of these plants are expected to contain a high CBD and a low THC percentage. This group is therefore in the running for further development."
The new genetic material was obtained by fertilising a female version of Bediol, an existing cannabis variety in the Bedrocan range. Cannabis plants can be either monoecious or dioecious. In a monoecious version, both male and female flower types occur on the same plant. In a dioecious version, the plant has either a male or a female flower type. Bedrocan is usually only interested in the female, unfertilized flower type because these are the buds that are full of active substances. But new seeds can't be produced until there has been an initial fertilization. Hugo Maassen: "We've influenced the plant's hormonal balance in such a way that male flowering has also come about. What we've actually done is to make a female plant partially male, and this plant has started to produce pollen. This has made it possible for us to pollinate the female flower to obtain new seeds."
The new plant is ultimately intended as an active pharmaceutical ingredient (API) for the development of medicines containing CBD. In addition to cannabis flos for patients, Bedrocan also supplies larger, industrial batches to the pharmaceutical industry. The active ingredients CBD and THC are extracted from these batches. Maassen: "This is how we meet the requirements of the pharmaceutical industry. Where the one company wants a high THC content, the other wants more CBD. Of course, we have the CBD product Bedrolite for patients, but it doesn't yield enough as an API. That's why we're looking for a new variant."
New brochure to provide more information about medicinal cannabis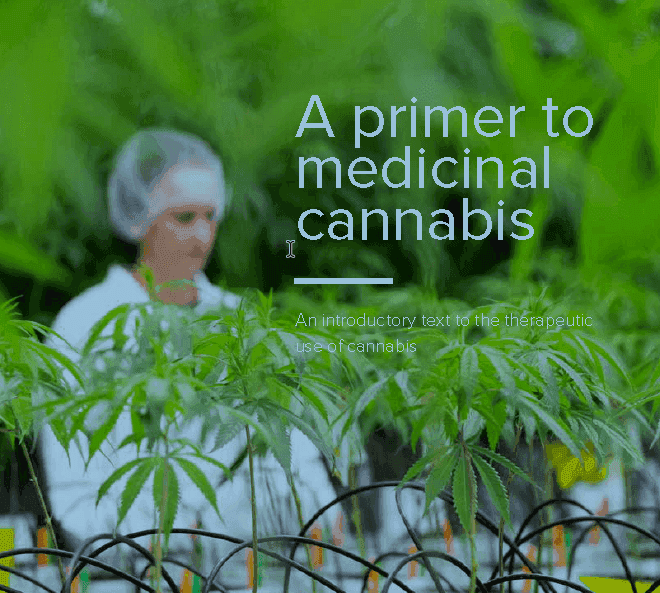 Bedrocan has developed a new brochure that explains the effect of medicinal cannabis in clear language. For now it is an English publication intended for patients, doctors and policymakers.
CEO Tjalling Erkelens has presented the first copy to ICRS President Heather Bradshaw at the ICRS scientific congress, held in Leiden (NL) recently.
English style guide available
Bedrocan's internal communications, such as e-mails, letters or articles, are increasingly in the English language. To help our employees, Bedrocan has developed its own English style guide. It tells you exactly how certain English words should be written, and it provides advice regarding the use of capitals or punctuation. It also contains a comprehensive list of frequently used terms. The latest version of the style guide is available at the Corporate Portal, but you can also download it below. The Corporate Portal can only be accessed via a login and is currently only available for employees with a Bedrocan e-mail account.
When will I receive my salary?
Bedrocan has recorded payment dates on which the salary is paid to its employees. Previously, dates sometimes fluctuated, but that is now behind us. The new payment salary dates are known for the whole year and are available in a handy overview that can be downloaded. In connection with monthly or period pay, the payment dates of Bedrocan Nederland differ from those of International. So please look in the right column.
Introducing… Yvonne Starre
Yvonne Starre became Bedrocan's new HR Manager in June. She is based in Emmeloord, but will be appearing regularly in Veendam. Her primary task is to support Bedrocan Nederland in the human resources area. She'll be working closely with Janny Homan and interim HR manager Patricia Zeegers.
Yvonne has plenty to offer in terms of the knowledge she has gained at various companies: from education to supermarket distribution, and from facades and window frames to care for the elderly. Yvonne Starre: "The most important thing for me is to have an affinity with the product or service. I have to be able to add something to the process. At Bedrocan, I'll be doing everything I can to improve processes and simplify personnel management."
The demand for medicinal cannabis has risen sharply in recent years, which has resulted in the company growing within a short time span. The support processes haven't quite managed to keep pace with this growth. Yvonne Starre: "That presents us with the task of ensuring that all our personnel processes are tailored more closely to the new organisation."
As she comes to the end of her first month, Yvonne is proud to be a member of an enthusiastic team: "I was struck by my colleagues' passion and devotion when it comes to medicinal cannabis. In a growing organisation there's always plenty to do. But there's no two ways about it: we do it for 'our' patients."
Confidential advisor for unequal treatment
At work collaboration or relationships are not always pleasant. For example, you may have to deal with, for example, bullying, sexual harassment, discrimination, aggression and even violence. A confidential adviser can come in handy with this kind of delicate issues. Bedrocan uses an external confidential contact person who is affiliated with the trade association.
As an employee, you deal with people such as colleagues, managers, clients, etc, whereby it can happen that the collaboration is not always pleasant. The consequences of desired manners do not lie: human suffering, turnover, loss of productivity, absenteeism and even incapacity for work.
Complaints can in most cases be resolved internally by discussing them with your own supervisor, another supervisor or an employee of the HR department. If an internal route does not offer a solution, you can discuss your complaint with an external confidential adviser.
What does a confidential advisor do?
the collection, guidance and support of employees
analysing incidents and advising on them
referral to professional emergency services
The point is that delicate issues must be solved in the right way. The confidential advisor deals with all requests for help in strict confidentiality. Action is only taken when the reporter agrees.
Bedrocan uses a confidential advisor who is affiliated with the trade association. This the reference to Article 62 of the Collective Labor Agreement (available in Dutch only):
'GMP is a must for Bedrocan'
During a second information meeting in both A2 and A5, Tjalling Erkelens updated on the latest developments. In doing so, most time was spent on the importance of GMP. With reason, says Tjalling. "We have seen in the past few weeks that the world wants our products. That we meet the requirements of good manufacturing practice (GMP) distinguishes us from all other parties. In addition to a good standardisation process and delivery reliability, our GMP certificate really makes all the difference and that makes it an absolute must for Bedrocan."
Patients, doctors, the pharmaceutical world and legislators and regulators require a reliable product from a reliable organization. We are also being tested on this. In October, for example, there is another GMP audit, in which the Healthcare and Youth Inspectorate (IGJ) will assess whether we have the issues in order. Employees will receive timely information about the agenda of that audit.
Complying with GMP requirements is a responsibility of all employees, but then we must enable employees to do their work according to these requirements. That is why, in close consultation with the Quality Assurance (QA) department, we are working on better processes, broadening and deepening knowledge among employees (training) and the right assignment of responsibilities.
Tjalling further indicated that the Bedrocan organisation is growing and that this growth is not coming to an end for the time being. As an active pharmaceutical ingredient (API raw material) and as a medicine directly intended for patients, our products are increasingly crossing the border and therefore the use of the entire production space in A5 is already taken into account. This doubles the capacity in Emmeloord and we will see a lot of new colleagues at Bedrocan Netherlands.
Bedrocan International is also growing. A large number of vacancies appear there in the short term, which are also published internally. Bedrocan employees are cordially invited to look at them carefully and to apply for a job. Changes can also be expected at the top of the organisation. The recruitment of a third board member (in addition to Tjalling Erkelens and Ben Bronfman) has started, while the functions CFO and COO are temporarily filled in by Mauricio Agudelo and Jaap Erkelens.
With the growth of the organisation, the importance of participation buy employees also increases. This ensures greater involvement, while the organization can profit of the knowledge and experience of employees. That is why a Central Works Council will be set up. This procedure (including elections) will take some time, but the works council must be active in 2018. The HR department will keep you informed.
Finally, in Bhutan, a kingdom in the Himalayas, wedged between India and China, the 'Bhutanics' project has started. Hugo Maassen, together with scientists Eric Schranz (Wageningen University) and Robin van Velzen (Wageningen University / Bedrocan International), traveled to the mountain state for scientific research into local cannabis varieties. The Bhutanese government, Bedrocan, Wageningen University and the University of Amsterdam are working together in the project. "In Bhutan, cannabis grows in the wild and we may be able to find material that is genetically and chemically interesting for further development of medicinal cannabis," explains Tjalling. "Research is being carried out in collaboration with the government and various knowledge institutes in Bhutan. At the same time, Bedrocan – together with the Transvaal Pharmacy – will help Bhutan to develop cannabis oil for patients in that country. "
Let's talk about medicinal cannabis
Ilse Andringa's ten-year-old daughter Britt wanted to dedicate her lecture at school to medical cannabis. To illustrate that the production of medicinal cannabis must meet pharmaceutical requirements, even a classmate was hoisted in 'the white suit'. And guess what, this classmate is called Tjalling … The reactions to the lecture were very positive, because even the younger generation wants to know more about the medicinal use of cannabis. With that, Britt's class is already ahead and Britt was given a reward for good work.
Plans for giving a lecture? Please contact the Marketing, PR & Communication department first.
Overview of the Veendam and Emmeloord yields
In the pie charts below, you can find the varieties that have been produced per location over the past year.