New clinical research into the functioning of Bediol
The Leiden University Medical Centre (LUMC) in cooperation with Bedrocan is starting a study. The product Bediol®, which contains both the cannabinoids THC and CBD, is used for this purpose.
Next week it will be announced what the investigation is about and the Dutch newspaper AD will publish an article about this on Tuesday 11 June. Bedrocan will also send out a press release.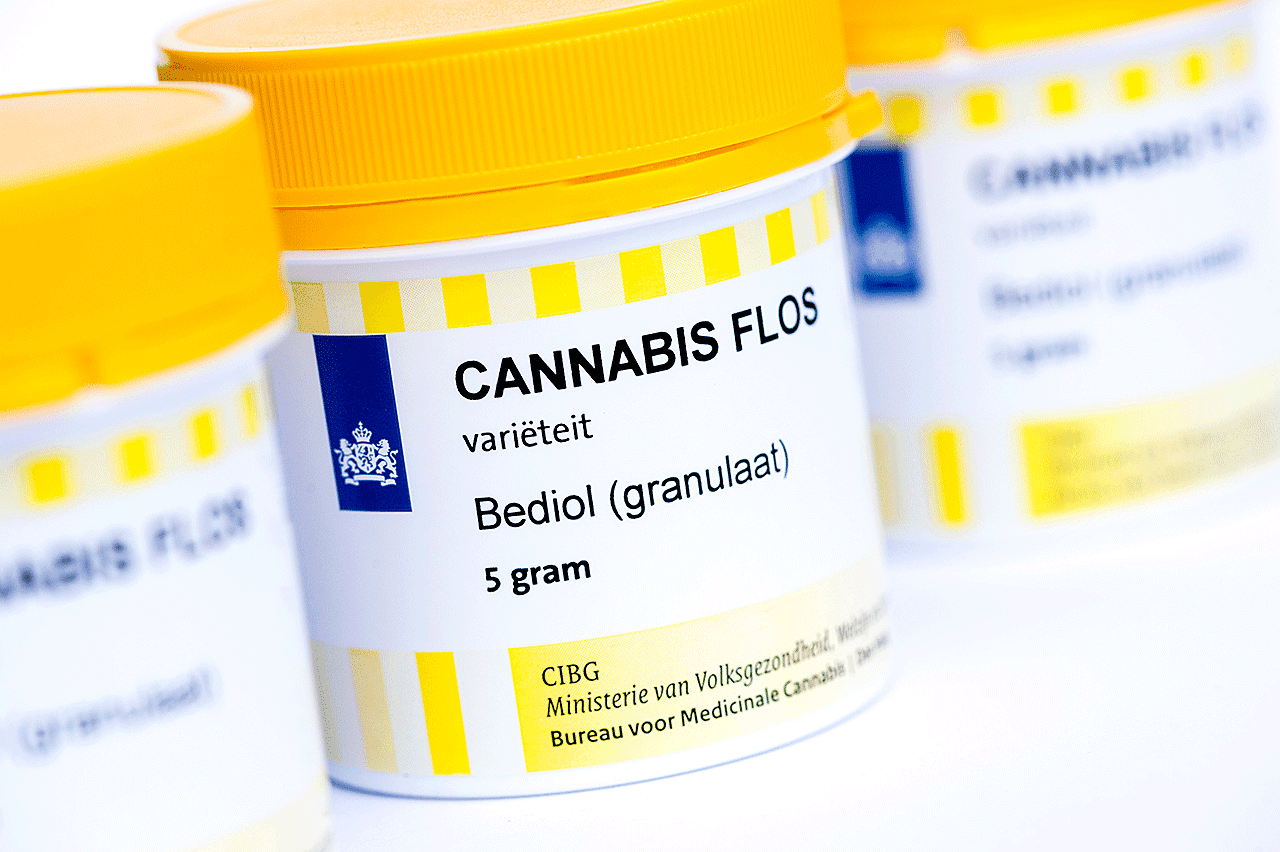 The principal researcher, Prof. Albert Dahan, previously did research into the effect of medicinal cannabis in the treatment of chronic pain caused by fibromyalgia. An article about this appeared in the journal PAIN at the end of 2018. Results of that research were so positive that Dahan will now start a follow-up study. So more about that next week.
New photo series of production process
Most of you will have noticed photographer Lex van Lieshout's presence in Emmeloord. He was commissioned by the PR and Communication department to take a new series of photos of the whole production process. The clothing (purple gloves instead of blue ones) and the materials used in particular had changed so much due to the tightened GMP guidelines that a new photo series turned out to be necessary. The photos will be used, for example, for the website, on social media and in the newsletter. The photos have been produced in such a way that no one in the pictures can be recognised.
In the past month, Bedrocan has appeared in prominent media twice. Pharmaceutisch Weekblad featured a detailed interview with our own general director, Tjalling Erkelens, and QA director Naiem Hakiemie. Tjalling drew attention to the need to listen more to patients. He also emphasised the importance of in-depth research into the effectiveness of medicinal cannabis.
The fact that science is not sitting idle in this respect was evident, for example, from an item NOS recently highlighted during the Eight O'Clock News. Tjalling was once again interviewed, but so was Prof Albert Dahan from Leiden University Medical Centre (LUMC), who has done research into the effect of our products among fibromyalgia patients.
Frane and Nino on a mission in Croatia
Back in March both Frane Šunjić and Nino Rakić received an invitation to attend the 'Careers Day' that took place on the 15 and 16 of May on the Faculty of Agriculture in Zagreb, Croatia. Prof. Milan Pospišil invited Frane and Nino to present our company to professors and to shortly describe their path to Bedrocan with the hopes of inspiring some of the students to put time and effort in pursuing their own goals as career. We asked Nino about their findings.
Who is Prof. Milan Pospisil and what is your relationship to him?
Prof. Milan Pospišil is the one of the professors at the department of field crops, forage and grassland and has been actively involved in establishing policies for hemp cultivation since 2012. He is also our former mentor and has helped both Frane and myself to complete our master thesis on the topic of production and processing of medicinal cannabis. Both papers were one of the very first ever written on the topic of medicinal cannabis and its production in Croatia.
Why have you been invited now?
Just a month following the received invitation, big development has occurred in the field of medicinal cannabis in Croatia. The committee that was formed back in 2015 and has been responsible for the analysis and recommendation for the application of medicinal cannabis and its preparations together with their president Dr. Ivan Ćelić have suggested an amendment to the current law on drug abuse which would allow production, processing and export of medicinal cannabis. The amendment was accepted by the Croatian Parliament on the 5th of April, 2019.
That's interesting. Have you been able to put Bedrocan on the map?
Following these significant changes, during the course of our stay in Croatia we scheduled two meetings with medicinal cannabis policy stakeholders. The first meeting was with Dr. Siniša Varga, former minister of Health (2014 – 2016) who founded the Committee for analysis and recommendations for the application of medicinal cannabis and its preparations. The second meeting took place in the Croatian Parliament where we met Dr. Ivan Ćelić, Vice President of Board of Health and Social Policy and the newly appointed President of the Committee for analysis and recommendations for the application of medicinal cannabis and its preparations. The meetings resulted in a strong possibility of Bedrocan's involvement in setting up the guidelines for the production and processing of medicinal cannabis in Croatia.
After the presentation, we were handed a Certificate of Gratitude for our contribution and involvement in the 2019. Careers Day. More importantly, we received a good feedback from different professors which have also expressed interest in the subject, predominantly because the faculty of Agriculture might become one of the few research centres in Croatia where research related to medicinal cannabis would be conducted.
Cultivation team starts using new scaffold
Their faces speak volumes. The cultivation team in Emmeloord is delighted with its new scaffold. It enables them to replace the lamps and airbags suspended from the ceiling safely and conveniently from now on. The scaffold's structure means that it can be easily rolled in such a way that it is positioned above the tables. A suitable solution is still being sought for the Veendam cultivation team.  As the vegetative cell there is smaller and not so high, a scaffold is probably not the most obvious solution.
A5 has a covered bicycle storage unit and smokers' hut
A covered bicycle storage unit and smokers' hut has recently been put into use in Emmeloord. Bicycles and staunch smokers no longer have to stand in the rain when the weather is bad. The smokers' hut also has an additional purpose: limiting smoke nuisance to a single location. It is the intention that staff no longer smoke at the main entrance or the new picnic tables. This means that smokers can now be considerate to other staff who like to sit outside, but preferably not in someone else's smoke.
Introducing…Andrew Kraszewski
Andrew Kraszewski, 30, hails from Glasgow, Scotland and recently joined Bedrocan as Corporate Strategy Analyst. Prior to moving to the Netherlands, Andrew spent the past ten years living in the United States where he originally attended college at Yale University in New Haven, Connecticut. As an undergraduate at Yale, Andrew received his BA in economics and focused on environmental economics.  Following graduation from Yale, Andrew commenced his career on Wall Street in New York City and was a member of Macquarie Capital's Infrastructure, Utilities, and Renewables team specialising in financial advisory and principal transactions in the transportation space.
After three years at Macquarie, Andrew transitioned to the medicinal cannabis sector. Having been inspired by the possibilities of the cannabis plant, the ability for legalisation to repair the damages of the drug war, in addition to the huge market potential, Andrew joined High Street Capital Partners, which is now Acreage Holdings.  As High Street's first full-time employee, Andrew was responsible for a variety of initiatives, including investor relations and mergers and acquisitions.
After High Street, Andrew moved to Chicago and was a financial analyst at Green Thumb Industries where he focused on principal transactions and financial planning & analysis. Indeed, Andrew is excited to continue his journey through the medicinal cannabis space at Bedrocan.
Tjalling on Tour postponed
The next Tjalling on Tour that was planned for Wednesday 19 June has been postponed. A new date will be announced.
BBQ Bedrocan Nederland a success
On Thursday 23 May colleagues from all over gathered in Emmeloord, where Bedrocan Netherlands organised its BBQ. The weather was kind, the location was great, drinks were enjoyed in moderation, the food was delicious and the atmosphere was relaxed. Fortunately we also have pictures…