CANNABIS INSIDE
Geschiedenis van cannabis
Cannabis is een van de oudste bekende medicinale planten. In praktisch alle oude handboeken over planten met medicinale werking wordt de plant veelvuldig beschreven in de vorm van een tinctuur of een thee. Er zijn zelfs bij Egyptische mummies sporen aangetroffen van cannabis dat gebruikt werd als voedsel of geneesmiddel.
Uit archeologisch onderzoek blijkt dat de plant 10.000 jaar geleden al in China als voedsel en voor de vezels werd gekweekt. De plant heeft zich sinds die tijd vanuit Azië verspreid naar Afrika en het Midden-Oosten. Uiteindelijk is de plant rond 500 v.C. in Europa terechtgekomen. In 1545 werd cannabis op het westelijk halfrond geïntroduceerd door Spanjaarden die het product naar Chili transporteerden en als vezel gebruikten. In Noord-Amerika werd cannabis in de vorm van hennep verbouwd ten behoeve van industrieel gebruik voor de productie van touw, kleding en papier.
Het medicinale gebruik van cannabis werd in Europa pas rond 1840 geïntroduceerd door een jonge Ierse arts genaamd William O'Shaughnessy. Hij diende in de Britse Oost-Indische Compagnie en ontdekte tijdens een verblijf in India dat cannabis daar vaak werd gebruikt als geneesmiddel. Als gevolg hiervan werd cannabis in de daaropvolgende decennia gedurende een korte periode zeer populair in Europa en de Verenigde Staten. In deze periode waren er verschillende medicinale preparaten beschikbaar met cannabis als actief ingrediënt. Deze middelen werden voorgeschreven voor uiteenlopende indicaties, zoals menstruatiepijn, astma, hoesten, slapeloosheid, ondersteuning bij bevallingen, migraine, keelontstekingen en het verminderen van opiumgebruik.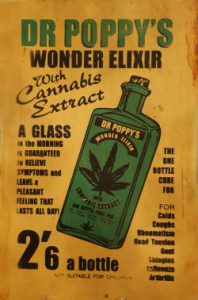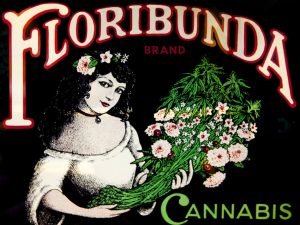 Omdat er in deze tijdsperiode geen hulpmiddelen beschikbaar waren om de kwaliteit te kunnen beheersen, was het niet mogelijk een gestandaardiseerd geneesmiddel te produceren. Patiënten kregen vaak een dosering die ofwel te laag was en geen effect had ofwel te hoog was en ernstige bijwerkingen veroorzaakte. Vanwege deze nadelen werd cannabis als geneesmiddel in het begin van de twintigste eeuw steeds minder populair. In plaats van cannabis deden geneesmiddelen gebaseerd op opium, zoals morfine en codeïne, hun intrede.
Langzaam maar zeker verdween cannabis uit alle westelijke farmacopeeën. Aan het einde van de jaren '50 verkondigde de Wereldgezondheidsorganisatie (WHO) dat cannabis en de preparaten die ervan gemaakt werden, geen medisch doel meer dienden en dus feitelijk overbodig waren. In 1961 werden cannabis en cannabispreparaten in het 'Enkelvoudig Verdrag inzake verdovende middelen' van de Verenigde Naties als gevaarlijke verdovende middelen, met een groot risico op misbruik, aangemerkt. Het Enkelvoudig Verdrag verbiedt de productie en levering van cannabis, tenzij dit onder licentie plaatsvindt voor specifieke doeleinden zoals medische behandelingen en onderzoek. Bovendien verplicht het Verdrag de lidstaten ervoor te zorgen dat het nationale drugsbeleid in overeenstemming is met dit internationale drugsverdrag. Dat betekent dat medicinale cannabis uitsluitend aan patiënten beschikbaar mag worden gesteld via een door de overheid opgezet nationaal programma voor medicinale cannabis. Landen als Nederland, Duitsland, Italië, Canada, Australië en de Tsjechische Republiek beschikken inmiddels over een officieel cannabisprogramma in overeenstemming met het Enkelvoudige Verdrag.