'Avoid using sativa indica terminology'
There is perhaps no debate in the world of cannabis more contentious than that of species. The genus Cannabis sativa L. is the only official species, but the cannabis industry is using other terms as indica and hybrid to promote their varieties. Associate Professor Sean Myles from the Canadian Dalhousie University recommends avoiding the use of these terms as a recent study has demonstrated that current labelling of varieties as sativa and indica does not reflect any meaningful genetic identity.
Myles, who supervised the study on the genetic differences between the two cannabis types and their hybrids, will present his results on the International Cannabinoid Research Society (ICRS) conference in Leiden, Netherlands, from 1 – 4 July 2018. In the run-up to the conference, Bedrocan asked him a few questions.
Do you consider the results as ground-breaking?
'No, I don't. Any professional in breeding or genetics with even peripheral knowledge of the cannabis industry would have bet that the 'sativa' and 'indica' labelling in the current cannabis market was unlikely to reflect genetic reality. It just took some data to demonstrate the degree to which this is the case, which we have done and continue to do.'
How did you come up to study cannabis?
'Our laboratory developed an interest in cannabis because we do similar research in genetic ancestry deconvolution in other species, like grapes and apples. It made a lot of sense to extend our expertise to cannabis since it is an economically valuable agricultural species, little was known about its genetic structure, and there was widespread use of a dichotomy (i.e. 'sativa' vs. 'indica') that was believed to reflect ancestry. For the study together with Bedrocan, we benefited from their expertise in chemical profiling and paired it with our expertise in genomics and bioinformatics. The result has been fruitful in terms of insights into the question of variety identity.'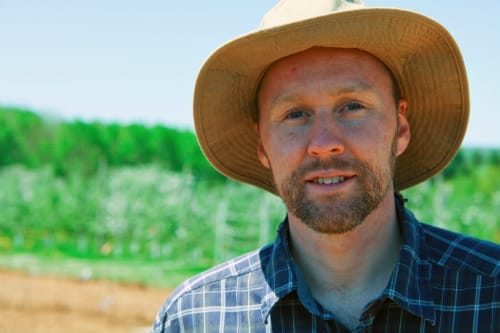 What are the reactions to your research results so far?
'Overall, the public has taken a strong interest in our results, which suggest that the manner in which the labels 'sativa' and 'indica' are currently being used do not reflect meaningful genetic identities. Many of those in the cannabis industry, both medical and recreational, have also headed our advice to avoid using these terms until there is a consensus about what they mean. In the end, I believe our results have contributed to a shift whereby varieties are being increasingly described by their measurable chemical content rather than by their purported ancestry.'
Cannabis reclassified
Cannabis labelled sativa and indica may not come from distinct ancestries, according to a study performed by the Canadian Dalhousie University in cooperation with Bedrocan on the genetic differences between the two types and their hybrids. In this study 149 Dutch cannabis samples were analysed, correlating the genotype and chemotype to their reported ancestries. Indica- and Sativa-labelled samples were not as distinct as sub species would be assumed to be, but the genetic differences between them do correlate to their terpene profile (resin fragrance), which could explain the variation between them.
What were the responses from companies that sell cannabis?
'There are those in the recreational cannabis market who are unlikely to abandon the terms 'sativa' and 'indica' because they are useful terms for marketing their products. This is especially the case for companies selling seeds online. Their discontent is acknowledged, but the evidence speaks for itself and I'm hopeful that, in the end, labelling of cannabis products will be based on empirical data rather than marketing tricks.'
Some people claim to be able to smell the difference between an indica or sativa type. What would you like to say to them?
'Our results do in fact suggest that the labelling of strains as 'sativa' vs. 'indica' may have more to do with their aromas than their genetic ancestry. Thus, in this case, these people may in fact be partially correct – they can associate a smell with a label. However, this still does not mean that the labels are capturing meaningful genetic information.'
What Bedrocan does
Bedrocan takes the advice into account and will reconsider how the differences can be classified better in the future.
What would be your recommendation to medicinal cannabis producers? Whether or not to make the distinction?
'Our recommendation is to avoid the use of 'indica' and 'sativa' as it's likely to create confusion in the marketplace. So far, there is no evidence to support this dichotomy as a useful tool for describing ancestry or chemical composition. We advise producers to describe the content of their product empirically with regards to cannabinoid and terpenoid content.'