Medicinale cannabis, ook wel aangeduid met de populaire term mediwiet, is cannabis die voorgeschreven wordt door een huisarts of medisch specialist. In Nederland wordt dit ook wel medicinale wiet genoemd. De producten zijn uitsluitend verkrijgbaar bij de apotheek en bedoeld voor gebruik ter medicatie. Het is daarom voor patiënten niet mogelijk om medicinale cannabis rechtstreeks bij Bedrocan te bestellen.
De medicinale cannabis, die beschikbaar is in Nederland, wordt door Bedrocan geproduceerd in opdracht van de Nederlandse overheid.
Bedrocan produceert vijf verschillende soorten in flos- dan wel granulaatvorm.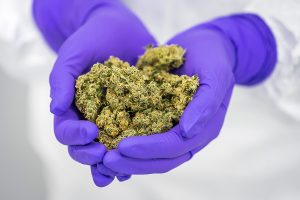 Flos is de farmaceutische term voor de hele, gedroogde bloemtop.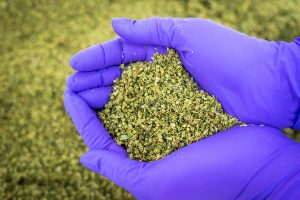 Als granulaat is de cannabis in kleinere deeltjes gebroken.
Cannabisolie
Ook wordt in Nederland medicinale cannabis in olievorm aangeboden. Meer informatie over cannabisolie, CBD-olie of wietolie kunt u vinden op de pagina cannabisolie.
Standaardisatie
Alle producten van Bedrocan zijn volgens farmaceutische richtlijnen gestandaardiseerd en bevatten een vaststaand gehalte aan werkzame stoffen, waaronder THC en CBD. Deze standaardisatie is essentieel zodat patiënten iedere keer dezelfde dosering toegediend krijgen. Hiermee wordt het risico op overdosering en ongewenste bijwerkingen aanzienlijk beperkt. Meer over deze werkzame stoffen en eventuele bijwerkingen vindt u in het gedeelte Cannabis Inside.