Bedrocan market leader in Europe
Facts and myths – the MJBizDaily factbook 'Medical Cannabis in Europe: The Markets & Opportunities' provides a clear picture of the European medicinal cannabis for the first time. What does the European market for medicinal cannabis look like? Which regulations apply to which country, who produces, who imports and which producers make the largest contribution?
Those questions and many more are answered factually and in detail for the first time by a special edition of Marijuana Business Daily, an American news outlet on the global cannabis industry. What transpires? Bedrocan is the clear market leader in Europe. More than 61% of the medicinal cannabis that is used by patients in Europe comes from our sites in Emmeloord and Veendam.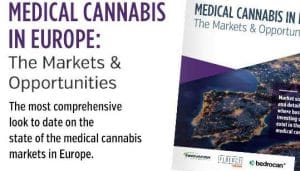 A special team of journalists and researchers analysed the European market for medicinal cannabis. It produced a diverse picture, both in terms of regulation and figures. Just three countries – the Netherlands, Germany and Italy – have a significant domestic market, whilst all other countries together account for just 3% of the market. Furthermore, the Netherlands is the only country that is able to meet the needs of patients internally, as all other countries depend on import. In contrast to a popular argument, this import does not come from Canada.
Besides the general European figures, the report also provides a good overview of the market and the regulations in more than 20 individual countries. If you are interested, you can download the MJBizDaily factbook free of charge.