Bedrocan presents: A clinical primer
Bedrocan is happy to present the new booklet 'A clinical primer'. Following on from the introductory text 'A primer to medicinal cannabis', the 'clinical primer' draws on clinical research, clinical observations, and professional experiences to provide useful, real-world insights into the rational use of cannabis-based medicines. It aims to equip prescribers, pharmacists, and nurses with practical, evidence-based guidance to support decision-making and improve communication of these medicines' benefits and risks with their patients.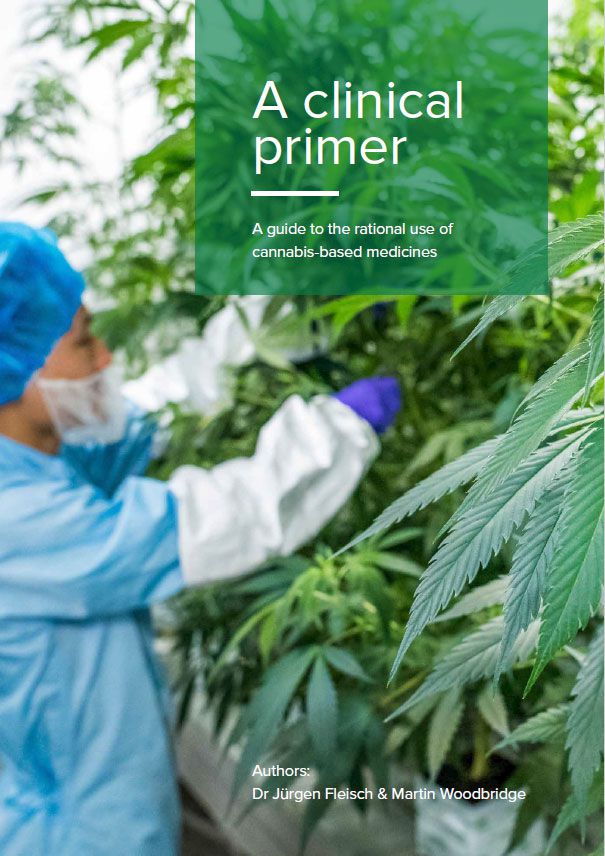 About the authors and editor
The authors are Dr Jürgen Fleisch (MD, PhD) and Martin Woodbridge (MPHC, DPH). The editor is Professor Emeritus Dr Carl Burgess (MB ChB, MD, MRCP, FRACP, FRCP).
Dr Jürgen Fleisch (MD, PhD) has practised anaesthesiology and pain therapy since 2007 at the Leiden University Medical Centre (LUMC), Netherlands. His close cooperation with the Department of Oncology of the LUMC allowed him to regularly treat pain and related symptoms in cancer patients using classic medications and interventional pain treatments. He also has considerable experience prescribing cannabis-based medicines.
Martin Woodbridge (MPHC, DPH) is a pharmacologist, policy analyst, and clinical educator. In 2007, he wrote New Zealand's medicinal cannabis clinical and regulatory guidelines for the Ministry of Health. Since then, he has advised on the development of cannabis medicine programmes in Oceania and Asia and for the United Nations International Narcotics Control Board's regulatory guidance on cannabis intended for medical and scientific use. He is also the author of the complimentary text 'A primer to medicinal cannabis'.
Professor Emeritus Dr Carl Burgess (MB ChB, MD, MRCP, FRACP, FRCP) is a member of the New Zealand Order of Merit for Services to Pharmacology. He taught internal medicine and clinical pharmacology from 1982 to 2013 at the University of Otago's Wellington School of Medicine while also a consultant hospital physician to Capital and Coast Health, New Zealand. He has been involved in clinical pharmacology research since 1976.
Martin has worked with Dr Carl Burgess and Dr Jürgen Fleisch on different projects relating to the rational use of medicines.
Contributions
The clinical primer is also the result of the contribution of several healthcare professionals, who agreed to share their experience with prescribing, handling and working with cannabis-based medicines for patients with different conditions.
Bedrocan also proudly supports the development of this brochure under the policy of education without commercial bias.
Go to our Downloads page to download a free copy.