Real-World Data can help to understand better how medicinal cannabis works
For years, doctors and researchers have been calling out 'we need more evidence' regarding the effect of medicinal cannabis. The Dutch-German company MYCB1 says it can now provide this proof by using data from actual patients. It is called Real-World Data (RWD), a new term that is popping up more and more in the medical world.
Real-World Data approach
In a Real-World Data approach, drug efficacy data is not extracted from traditional controlled clinical trials but comes directly from patients. For example, a patient keeps track of his health status via an online app on a daily basis. This data is then processed and made available via an online platform. More and more drug agencies, including the US FDA and the European EMA, are using this type of data to support drug decision-making and approval.
Uruguay-born Ernesto Diringuer started the pharmaceutical technology company MYCB1 five years ago with the aim of collecting scientifically useful data from real patients. The starting point was to demonstrate the effect of medicinal cannabis with the help of patients. To collect the data, MYCB1 has developed the ALETTA platform, named after Aletta Jacobs, the first female doctor in the Netherlands.
High-quality Real-World Data
Doctors and researchers can use ALETTA to gather high-quality Real-World Data on patients under cannabinoid-based treatment. This data can then be used to optimize patient treatment results or for research purposes.
The ALETTA stands out from all other apps in the market. "We are not a purely technological company, because we also produce cannabis oil ourselves from Bedrocan raw materials. This oil is standardised and that is the basis of the whole concept. Without standardised oil, you cannot collect scientifically sound evidence about the effect of medicinal cannabis. The ingredients of cannabinoid-based medicines must always be the same, just like with any other medicine."
MYCB1 produces three different types of medicinal cannabis oil that doctors can prescribe to patients.
Real-World Evidence and Covid
The Covid-19 vaccines from AstraZeneca, among others, have been developed with evidence collected through Real-World Evidence (RWE) studies. In an article approved by the International Society for Pharmacoepidemiology, scientists state that RWE has "quickly provided compelling evidence on drug safety, vaccine safety and effectiveness." The European Medicines Agency expects that by 2025 the use of RWE will have become commonplace.
Amsterdam pharmacy
In the Netherlands, the products of MYCB1 are registered with Z-index, the drug database of the Netherlands. The oil is manufactured under GMP in their Amsterdam pharmacy. For the German market, production takes place in Steinheim. Per default, the oil comes with the ALETTA application in which patients indicate any side effects and how they are feeling through a validated, internationally recognised questionnaire. Diringuer: "These are not random questions but standardised questions that are used by scientists worldwide to assess someone's quality of life, the so-called EQ-5D. It has been used to gather evidence in trials, population studies, and real-world clinical settings for over 25 years."
The patient plays a crucial role in the concept. Data about his well-being must be captured in the app. Diringuer: "The patient who is prescribed our oil can keep control over their own medication. They can look for the dose that works best and has the least side effects. Side effects can be reported immediately, and the patient gains insight into their own Quality of Life." Doctors can then use this data to make more informed medical decisions.
Researchers also see the value of the availability of the Real-World Data. "The drug agencies, including the European Medicines Agency, increasingly want to see Real- World Evidence (RWE) studies, which provide insight into medications outcomes on patients' daily drug use. It is a new development from which there is no escaping, and it seems RWE will be the new gold standard for clinical research in the near future," says Diringuer.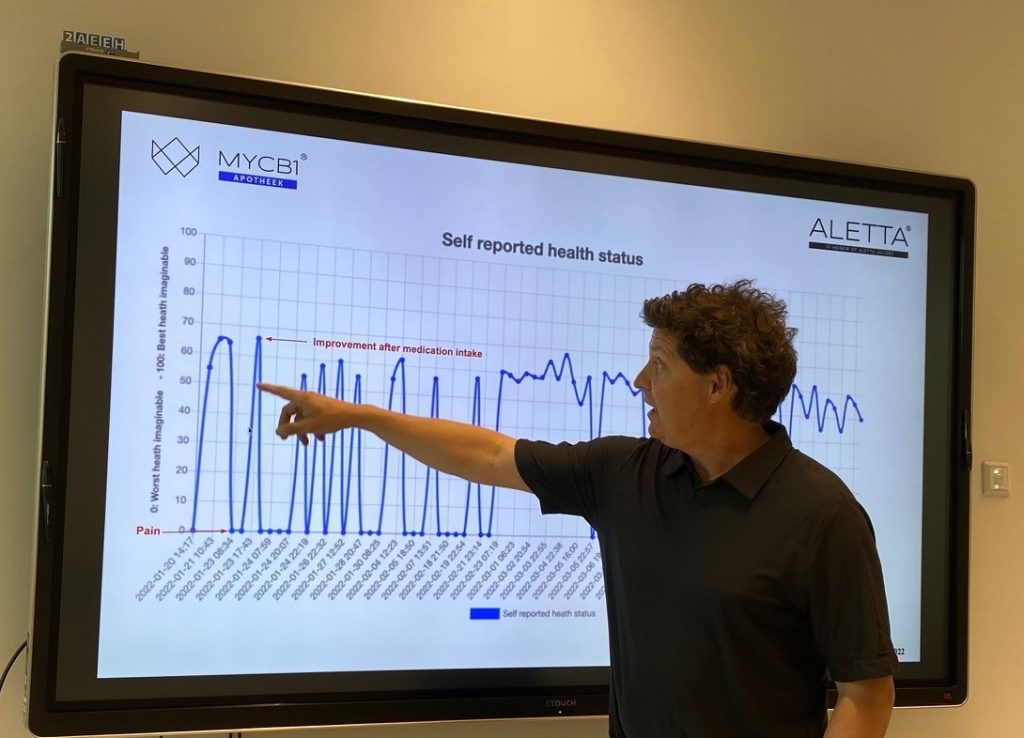 How MYCB1 started
"In 2017, it became clear to me that the only way going forward on the cannabis space in the Netherlands was on prescription-only cannabis extracts manufactured only with Bedrocan GMP-grade standardised cannabis flos.
We found out in our journey that, on one side, many patients are benefiting from cannabis. However, there is a serious lack of high-quality scientific evidence on the other side. We also found out that this is not an exclusive problem of cannabinoids, but the insufficient evidence also applies to register medicines when used in the Real-World setting. Control studies results as Randomized Control Trials, with strict exclusion criteria, do not represent the results of the same drug in Real-World use by "real patients" with varied comorbidities, poor adherence, ethnicities, using many medications with complex interactions, and so on.
The problem of lack of scientific evidence also extends into supplements and vitamins, and other OTC drugs, but also into all kinds of behavioral interventions.
MYCB1 is developing tools and technologies such as ALETTA, our Real-World Data management platform, to gather high-quality Real-World Evidence to help optimise patients' outcomes. Starting with cannabinoids but moving into all prescription medications, OTCs, and also behavioural interventions. "
MYCB1 Apotheek + ALETTA is ISO27001, NEN7510, ISO9001 and HKZ certified.