UMCG starts scientific research into cannabis oil for chronic pain in Epidermolysis Bullosa
The Dutch University Medical Center Groningen (UMCG) has recently started a study into the effect of cannabis oil in patients with Epidermolysis Bullosa (EB). EB is a serious hereditary blister disease in which patients experience different types of pain. The study is an exploratory, randomised, placebo-controlled and double-blind crossover intervention study, in which 16 patients participate. Within a year, the chief physician of EB patients at the UMCG, Dr Marieke Bolling, and Prof. Dr André Wolff, medical head of the UMCG Pain Center, both principal researchers, want to be able to tell whether medicinal cannabis oil has an influence on the pain experience of these patients.
Together with fellow physician-researcher Nic Schräder from the UMCG, they are working on this unique study: "We are the first in the world to clinically investigate the effect of cannabinoids in EB patients in this way."
Epidermolysis Bullosa
Epidermolysis bullosa (EB) is an inherited blistering disease of the skin and mucous membranes often associated with intense pain, chronic wounds and scarring. EB patients are treated according to the usual WHO pain ladder, a step-by-step plan developed by the World Health Organization (WHO). Lead researcher Dr Bolling: "What we as doctors have available to fight pain in EB patients is actually not sufficient. The pain starts at birth and lasts for a lifetime because the blisters and wounds keep coming. So, there is no cure. Many pain interventions are not intended to be used for years, but unfortunately, that is necessary for EB patients."
It is therefore not surprising that patients themselves are looking for methods to fight their pain: "Cannabinoid-based medicines, such as cannabis oil, are of course an example of this. We know that patients use medicinal cannabis with or without medical supervision."
Since 2015, a cannabinoid-based drug oil (CBM) containing Δ9-tetrahydrocannabinol (THC) and cannabidiol (CBD) has been prescribed to Dutch patients with Epidermolysis Bullosa with reported relief of pain, itching and reduction in the concomitant use of other medications for these patients' symptoms.
The idea for the study originated in 2014. Nic Schräder, the driving force behind the research trajectory, became unintentionally involved in the subject as a former medical student. "I went to EB patients' homes for a small-scale wound examination to test a new kind of bandage. During small talks, it kept coming up that these people were using cannabis to treat pain. As a tea or joint, or in a vaporiser, but also on the wound itself." His interest was piqued, as the use of cannabis was, even then, a controversial topic. After consultation with Prof. Dr. Marcel Jonkman, head of the dermatology department of the UMCG then, Schräder prepared three case reports. After that, a subsidy application for a placebo-controlled follow-up study was the next step.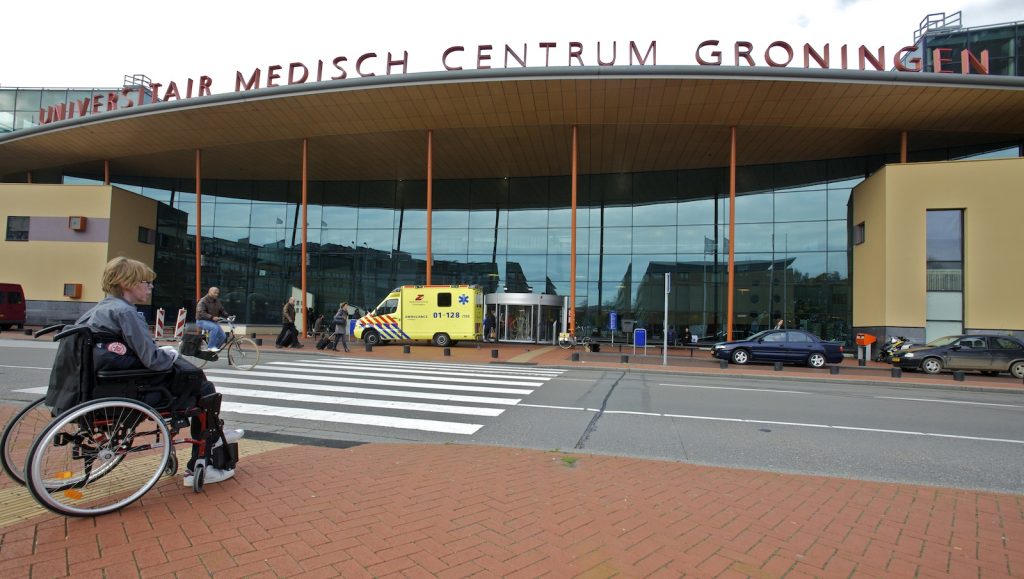 Patient association DEBRA
The financial resources for the study were obtained from, among others, the patient organisations DEBRA-UK and Debra Nederland. However, the most challenging obstacle was the methodological exchange between the Medical Ethics Review Committee (METC) and the research team, which took three years. "There are so many variables when you do research with cannabis; which form of administration should you investigate, which cannabinoid composition suits the clinical picture, which dosage is the right one, and which effects do you want to measure as reliably as possible?" Schräder explains.
By involving other specialists from the UMCG and the German Oldenburg, including an epidemiologist, we finally succeeded in drawing up an ethically sound, thorough research protocol. "Epidemiologists are methodologically very well versed. This helped us design the study, and it will help us process statistics and make the right choices," said Prof. Dr Wolff about this special choice. The knowledge exchange within the UMCG has also borne fruit. Doctors and researchers from the UMCG, who are involved or interested in cannabinoids within a scientific and clinical context, meet regularly in Round Table meetings to exchange knowledge and discuss the subject. It is the second time in a short time that the UMCG has started an investigation into the effect of cannabis oil. Schräder: "We have exchanged a lot of knowledge in this area with the Hepato-pancreato-biliary Surgery Department, who have previously started a study into liver cancer."
Transvamix®
Medicinal cannabis oil that contains sufficient CBD is used for the study. Schräder: "The literature shows that CBD theoretically suppresses the adverse side effects of THC." This Transvamix® contains 10 per cent THC and 5 per cent CBD and is prepared by the Dutch Transvaal Pharmacy. This uses the standardised plant varieties Bedrocan® and Bedrolite® as raw materials for the oil. This oil is also used in another scientific study by the UMCG, a study into the effects of cannabis oil in liver cancer.
Crossover design
A crossover design was chosen for the study, a setup in which the participant is administered the cannabis oil, as well as the placebo. So there is no separate control group. Schräder "There is a limited number of patients with EB who are willing and able to participate, and who meet the strict criteria for participation." In the Netherlands, there are about 500 patients with EB, of which about 90 per cent are registered in the treatment centre for blisters of the UMCG. Sixteen patients were selected to participate in the study. According to Prof. Dr Wolff, the number is less important because the design of the study determines whether something has statistical value. "You have to be able to demonstrate an effect. The right method, that's what matters."
Nociplastic pain
The study focuses solely on the experience of pain and not on blistering. Pain in Epidermolysis Bullosa is chronic and difficult to treat and is often experienced as 'unpleasant' by patients. This concerns wound and care pain, neuropathic and nociplastic pain, whereby the latter form of pain can appear in various places in the body without being anatomically explained. Prof. Dr Wolff: Pain often has a negative impact on people's mental state, behaviour and interaction with the people around them. People are often anxious, depressed or unable to work and become socially isolated."
It remains difficult for science to determine someone's experience of pain objectively. A scale of 0-10 is often used for this, but the outcome is still a subjective score. A new way to measure objective pain is the use of a functional MRI (fMRI). fMRI creates a 3D image of the brain. The areas, the brain activity, that are responsible for processing pain become visible. Schräder: "For the first time, this gives us a picture of what the pain circuit looks like in EB patients before and after treatment with cannabis oil. We do these scans in addition to the patients' self-reported pain scores. If you put all that data side by side, you should get a better picture of the pain experience."
If this combined fMRI method works, it could be of interest for other studies of pain. But according to Prof. Dr Wolff, the primary goal of the study is to demonstrate effectiveness: "You want to show whether cannabis can make a difference and is effective in EB patients with pain because that is not yet clear. The studies on the effect of cannabinoids on other pain syndromes are not always conclusive."