Today, Bedrocan produces five plant varieties for medicine development, patients and clinical use. Each product is standardised according to pharmaceutical standards with a defined active ingredient composition. This reproducible chemical profile allows doctors to monitor dosage and condition progress like they would with any other treatment.
Every stage of the manufacturing process is GMP-certified (good manufacturing practice). GMP is a requirement of the pharmaceutical industry and it ensures consistency in active ingredients.
Are you a healthcare professional?
Bedrocan has produced a brochure to support decision making by Australian prescribers and pharmacists on the safe and effective use of Bedrocan cannabis flos administered by vaporization.
To download the brochure Prescribing Bedrocan, we request your full contact details. Your details will be used by Bedrocan for the purposes of identifying you as a health professional.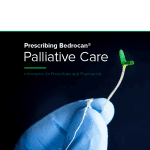 Prescribing Bedrocan – Palliative care
English
Are you a patient?
Patients cannot order medicinal cannabis directly from Bedrocan. Bedrocan's products can only be obtained at a local pharmacy with a valid doctor's prescription.