Bedrocan at CPhI Worldwide 2021 in Milan
Bedrocan will be present at the world's largest pharmaceutical exhibition, CPhI Worldwide. A pioneer in the medicinal cannabis industry, Bedrocan began its journey more than three decades ago. The company has been a reliable supplier of pharmaceutical-grade cannabis to the medicinal cannabis programme in the Netherlands since its inception in 2003. Over the last five years, the industry has grown exponentially and there is increasing interest from pharmaceutical companies seeking high quality cannabis raw material and APIs for drug development.
At CPhI, Bedrocan is looking to engage with some of these companies and also share its vast knowledge about the industry and regulations.
Global trend
A global trend has arisen: Prescribers are becoming more familiar with cannabis-based medicines and prescribing them. The increasing demand for pharmaceutical quality cannabis-based medicines has resulted in greater need for reliable and consistent APIs.
Meet us in Milan
CPhI Worldwide 2021 will be held in Milan from Tuesday November 9th until Thursday November 11th.
You can visit our booth and meet our Business Development team at stand number 18H24.
In their quest for a reliable source of API, pharmaceutical companies are increasingly finding their way to Bedrocan. This is unsurprising given Bedrocan was the first EU GMP-certified producer of standardised medicinal cannabis in the world. Varun Arora (Advisor Strategy & Development) and Karolina Ostapenko (Key Account Manager) will be present at CPhI Worldwide. We talk to them about the medicinal cannabis industry and Bedrocan's product offerings.
Meet the Bedrocan CPhI Team
Varun Arora & Karolina Ostapenko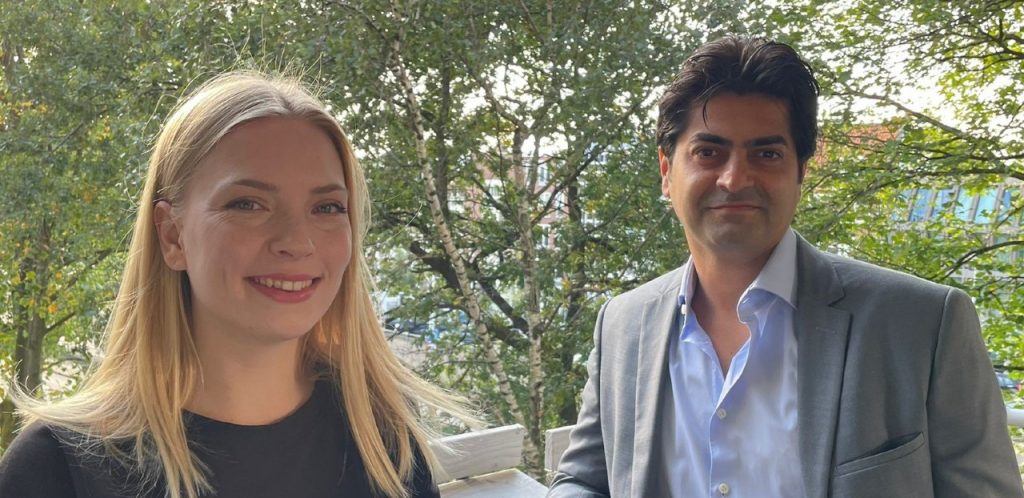 Karolina
I began my journey at Bedrocan in February 2019. I am a pharmacist by trade. As Key Account Manager, I am the point of contact at Bedrocan with regards to the Dutch medicinal cannabis system and possibilities of ordering Bedrocan products from the Office of Medicinal Cannabis. I am well-versed with the regulatory aspects of medicinal cannabis worldwide and can provide detailed information on Bedrocan products and the manufacturing process, which is compliant with EU GMP guidelines for pharmaceutical products.
Varun
I joined Bedrocan a little over three years ago in what can be described as an interesting moment for the medicinal cannabis industry in Europe. My background is actually in investment research. I worked as an equity research analyst for almost seven years, with three of those focused on the life sciences industry. Since joining Bedrocan, I have focused mainly on formulating the company's commercial strategy and taking the lead with regard to commercial development.
Tell us about the Dutch medicinal cannabis program
Varun: "The Netherlands began a cannabis program more than two decades ago. The need for such a program was driven by the fact that there were a large number of self-medicating patients in the Netherlands and the Dutch government 's intent was to bring them under prescriber/pharmacist supervision and move them away from the illicit market to procure their medicines. In line with the requirements under the UN Single Convention, the Dutch set up a cannabis agency, the OMC, which then tendered out different parts of the supply chain to different companies. For the last nearly twenty years, Bedrocan has been handling cultivation, with the entire harvest sold to the OMC, which has monopoly over trade of cannabis in the Netherlands. The programme has largely been successful, with around 9,000 patients in the Netherlands and around 90% of our total capacity of approximately 5.4 tons is actually exported through the OMC."
Karolina: "Interestingly, the programme was never set up with the intent to export, a mistake that several countries in Europe that legalised medicinal cannabis in the last few years made. Because the Netherlands implemented a cannabis programme many years before the hype in the industry, its interpretation of the Single Convention is quite strict. Under the current framework in the Netherlands, the actual vendor of Bedrocan products is the OMC. We are essentially a contract manufacturing organisation, or CMO. However, regulators in the country have obviously noticed the changes in the industry, especially since Germany, one of biggest medicinal cannabis market outside North America, legalised access to medicinal cannabis in March 2017. And given these changes, a review of the Dutch cannabis policy began in the summer of 2020 and some changes are expected in the coming years that would provide more freedom, especially when it comes to product development activities and engaging in business-to-business supplies."
What are your current product offerings?
Karolina: "As noted above, the actual vendor of all Bedrocan products is the OMC. Through the OMC, Bedrocan currently offers five different strains of dried cannabis flowers, with the Bedrocan variety accounting for almost 80% of our total production. Current regulations in the Netherlands do not allow manufacturing cannabis extracts for commercial purposes but in anticipation of a change in regulation down the line, we have stepped up our product development activities and one of the pipeline products is the trichome powder or dry extract. We have developed a technique to separate trichomes from the plant material. Trichomes have the highest concentration of cannabinoids. By separating trichomes from plant material, what you get is a much cleaner product. Moreover, no solvents are used in the extraction process and this is important as it means the integrity of the product is maintained and what we offer in the end is a true herbal product. We have done proof-of-concept work with our Bedrocan variety and the THC concentration for this variety goes up to 45% (from 22%)."
Varun: "There are two ways to look at our product offering. One as Karolina explained is the five standardised varieties that are currently supplied through the OMC and their derivatives such as the solventless extract, which subject to regulatory changes we would be able to offer commercially. But as a CMO and an accomplished cannabis raw material producer, what we are essentially offering is three things; our unmatched capabilities when it comes to cultivation techniques, our quality management system and finally stable genetics. The first two can be replicated for other cannabis cultivars and as a CMO we are always open to such opportunities. In fact, our cultivation techniques and QMS can even be replicated for other medicinal plants and this is the company's mid-to long-term goal in terms of expanding product offerings."
Can you define standardised medicinal cannabis?
Varun: "Standardised medicinal cannabis is consistent in terms of its active ingredients – the cannabinoids tetrahydrocannabinol (THC) and cannabidiol (CBD), but also the terpenes. which are the aromatic compoundsAll our products are produced in accordance with pharmaceutical quality requirements, because our production sites comply with the requirements imposed by EU GMP."
Karolina: "Each variety shows a constant composition of cannabinoids and terpenes; batch-to-batch, year after year. That's what we call standardised medicinal cannabis. We have been doing this for over two and a half decades now."
Why standardisation?
Karolina: "Standardisation is the essence of our mission and vision. The patient is at the heart of all this. Prescribers, pharmacies and patients expect a safe product that works. The same applies to pharmaceutical companies, which do not want a discussion about the composition of their raw materials. The industry needs an API that is consistent in its composition to develop and manufacture novel cannabis-based medicines. So, from pharma to patient; they all expect a product that complies with all the pharmaceutical production requirements, and that starts with high quality starting materials."
How do you achieve pharmaceutical standardisation with cannabis?
Varun: "Over the past 27 years we have developed and refined a unique method that has taken cannabis to the level of a pharmaceutical API. It starts with stable plant genetics, followed by a series of processes that are fully standardised and controlled. Furthermore, Bedrocan was the first medicinal cannabis producer to be compliant with the European Medicines Agency's GMP standards. We set the bar high."
Can you tell us more about your cannabis placebo product?
Karolina: "Cannabis placebo is of particular interest to researchers. A high-quality placebo is essential for thorough scientific research. We already had a placebo product for years. This has served science well, but is no longer available. Work is currently underway on a new, improved placebo product."