'CBD does not mitigate the impairing effects of THC'
It is often reported that cannabis strains which are high in CBD are less impairing than those with equivalent THC but low levels of CBD. However, a recent study carried out by the Lambert Initiative at the University of Sydney and led by Australian researcher Thomas Arkell suggests that CBD might actually exacerbate some of the impairing effects of THC on driving and cognition.
It has already been established that cannabis can negatively impact the ability to safely drive a car. The effects can vary substantially between individuals; however, cannabis is generally thought to have a mild to moderate effect on driving. This is a point of concern for patients who often use medicinal cannabis as a last resort in dealing with their illness.
Looking for participants
The research team of Maastricht University is looking for healthy volunteers between the age of 18 – 50, ideally a fifty-fifty mix of male and female. They are looking for occasional cannabis users, who use no more than twice a week.
If you are interested in participation please send an email to:
Driving performance
Driving is a complex activity that requires many cognitive skills – looking, changing gear, assessing, planning, judging etc. PhD student Thomas Arkell recently ran a randomised, double-blind and placebo-controlled crossover study to investigate the effects of vaporized THC and CBD on driving with the support of the Australian research institute the Lambert Initiative. He was surprised by their findings: "We found that cannabis containing both THC and CBD had a worse effect on driving performance than cannabis with only THC". Further, when participants received both THC and CBD, they had slightly higher levels of THC in their blood compared with when they had just received THC.
"These results therefore suggest that CBD does not mitigate or reduce the effects of THC, and that it may in fact exacerbate these effects."
Patients
According to Mr Arkell, patients in particular will benefit from this new information. "Cannabis patients who are using high CBD products which also contain THC (such as Bediol or Sativex) need to be made aware CBD could potentially elevate the amount of THC in your blood and may under some circumstances actually increase the effects of THC."
Generalised advice
So should patients not be allowed to drive after they take their medication? It continues to be difficult to issue general advice to patients who use medicinal cannabis. The effect of cannabis differs from patient to patient. Mr Arkell continued: "Cannabis is not as straightforward as alcohol. Each person metabolises the drug and responds to its effects in a different way which makes it hard to say whether a certain amount of THC in your blood or saliva will have a particular effect".
In the study, participants were still impaired 3.5 – 4 hours even though they felt much less 'high' at this time. According to Mr Arkell these results suggest that patients should probably avoid driving for at least 3-4 hours after taking their medication.
Arkell: "With more research, we can hopefully provide better guidelines for patients who may be unsure how long they need to wait before driving." A follow-up study led by Dutch Professor Johannes Ramaekers of Maastricht University is currently being developed and will begin this year. The follow-up study will use the Bedrocan and Bedrolite products as well as a placebo and will incorporate an on-road driving test.
Test vehicle
Maastricht University has carried out studies into the effects of cannabis on driving performance before. They use a unique test vehicle with dual-controls and roof-mounted equipment to measure various aspects of driving ability.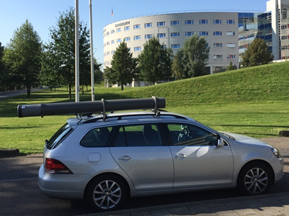 The driving test runs for approximately 1 hour and is done on a 100 km stretch of highway near Maastricht with an instructor present in the car at all times.
The on-road driving test has a significant advantage over a simulated driving test as it better approximates real world driving conditions.
What is considered to be impaired driving?
Thomas Arkell said: "To measure impairment we look at something called standard deviation of lateral position. This is a measure of lane weaving, or how much people are moving around on the road. Normally, people are pretty good at maintaining a steady position in their lane. When people are impaired due to alcohol or other drugs, however, they are unable to control this as well and so their standard deviation of lateral position goes up. We can use this same measure to detect the effects of cannabis on driving."
SDLP – Standard Deviation of Lateral Position
Placebo
(e.g. SDLP = 16 cm)

Sedating drug
(SDLP = increases)