Dr Hřib: 'Don't be afraid of medicinal cannabis'
When a science student stepped into his office and explained about the medicinal use of cannabis, Dr Radovan Hřib developed a serious interest in cannabis as a medicine in the Sint Anna University Hospital, Brno city of Czech Republic. Prescribing since May 2015 under state registration, he currently treats around 80 patients experiencing pain of different origin. Dr Hřib has a message for reluctant doctors: "Do not be afraid about cannabis for medicinal use. It will surprise you pleasantly."
Patient's profile
According to Dr Hřib there are three types of patients in his hospital. The first already has some good experience with cannabis, and wants to the use it under his medical supervision. The second patient type is already taking a number of analgesics such as non-steroidals, paracetamol, anti-rheumatics and opioids. They only receive partial response. With the third type, current treatment using classical medications hardly work and cannabis is their last hope.
He prescribes fully standardised cannabis flos, the whole dried flower, as it is the only pharmaceutical-quality product available in the Czech Republic. His patients take their medicine either prepared by the hospital pharmacy, as capsules containing a single dose of cannabis flos and are taken by mouth, or are dispensed cannabis flos for inhalation by vaporization. Just recently the Sint Anna Hospital has set up a special area where pain and cancer patients learn how to operate a vaporizer.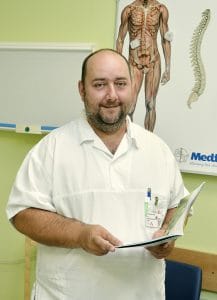 Why do you prescribe medicinal cannabis to patients? Is there a personal motivation?
I prescribe medicinal cannabis to patients for one simple reason: because it is helping them. This is driven by my professional curiosity and the intention to provide the best outcomes for my patients. An overwhelming majority of patients are actively interested in possibility using it as a treatment for pain. However, there will always be a few patients with strong opinions against its use.
What are the key benefits of medicinal cannabis?
I still have many benefits to discover. However, the longer I prescribe it, the more I am fascinated. In the treatment of pain, cannabinoids act in several modalities, apart from a
good analgesic effect, it significantly improves sleep and its use is accompanied by a reduction in anxiety. In this way, the so called vicious circle of chronic pain can be broken in several places.
What are the risks of prescribing medicinal cannabis?
The very individual character of dosing poses a disadvantage for many physicians. In Czech Republic we prescribe cannabis as an individually prepared medical product. Therefore you need a collaborating pharmacist who understands what is needed. I am lucky that I can rely on the great support of our hospital pharmacist Monika Pecháčková. As a prescribing doctor I would like to point out that my work with medicinal cannabis would not be possible without the support and tolerance of my faculty superiors, my family, colleagues and co-workers at the workplace and in the hospital.
Why is that?
There is great stigma around medicinal use of cannabis and this is also present in the Czech medical community. It is still tightly regulated, it is risky because there are still unknowns. As opposed to other work places, the hospital I work at has been openly supporting me from the very beginning.
How do you decide the best cannabis dose for individual patients?
Mostly, this being specific for the Czech Republic, I use oral administration through capsules. Mainly for financial reasons as patients appreciate that this method does not significantly increase the price of already expensive plant material. The body is offered the whole herb, and we let the human organism to choose what to absorb from it.
At the moment, I am using two dosing schemes for capsules. First one is according to my own empirical experience. We start at a dose of 0.125 gram of cannabis decarboxylated by heat, presented in a gelatine capsule, per night (which makes up to 18 – 25 mg THC depending on variety). If the patient experiences difficulties, the patient can call me immediately, at any time of the day. Within 7 days I want to hear from the patient, also if they only benefit from the treatment. When there are significant side effects, usually it is dizziness, we reduce the dose or we try to encourage the patient to keep trying. The dose is increased at the earliest after one month from the beginning of the therapy.
I also started using the second scheme according to neurologist Ethan Russo. Starting with a dose of 2.5 mg THC per night. After about 5 days we gradually increase the dose by 2.5 mg THC.
When vaporizing, I teach the patient about gradual titration. In the near future, I would like to combine oral capsule administration with vaporization. Now that we have opened our user centre, we will try to introduce the gradual titration directly in the hospital, or during hospitalisation.
Do you encounter diversion for misuse or the abuse of medicinal cannabis?
So far, I was lucky to have disciplined patients, and I did not have to deal with this problem with regards to medicinal cannabis. Given the fact that I have been prescribing highly addictive opioids to my patients for over 18 years, I have quite a lot of experience with diversion for misuse or the abuse. Fortunately, with patients experiencing chronic pain, this problem is minimal. Mostly, patients with this problem identify themselves. For example, they often "lose" medications, are not disciplined in treatment or check-ups, and so on. I believe that the best way to prevent and deal with abuse is to have an individual and personal approach to the patient.
If a doctor wants to know more about prescribing medicinal cannabis, what would be a good information source?
I recommend two basic resources to Czech doctors.
Furthermore I recommend the following websites:
IPVZ – the Institute of Post Gradual Education in Healthcare. They are holding already a third training seminar on cannabis.
SAKL – State Institute of Cannabis for medicinal use
KOPAC – Czech Patient Association
As the doctor's experience grows, they can much more rely on their own experience, and only use the internet occasionally.
Do you have any advice for doctors starting out prescribing cannabis?
Do not be afraid of medicinal cannabis and try it in your therapeutic practice.
What would you like to say to doctors that are reluctant to prescribe cannabis because there is not enough clinical evidence that medicinal cannabis actually works?
I will only repeat myself. Do not be afraid about cannabis for medicinal use. It will surprise you pleasantly. On the contrary, you will be able to contribute to the creation of scientific evidence. And I mean this as criticism towards the almost exclusively strict use of evidence-based medicine, which is well described, and the tendency to adhere to prescribing only this, rather than being open to new methods and treatments. Trying out new treatments and creating your own opinion… only then you will discover yourself what the real art of medicine is.