Medicinal cannabis or medical marijuana?
The way of referring to cannabis for medicinal use varies across the globe. Is it better to use the word medical cannabis or medicinal for cannabis? And what about medical marijuana? Bedrocan has a clear preference for what the correct term is, i.e. which is suitable and which is not. We are quite outspoken about that. In this article, we explain why.
Medical cannabis or medicinal cannabis?
Let's start with the terms medical cannabis or medicinal cannabis. Both are used, but are these two terms interchangeable? Is there a difference in meaning? At Bedrocan, we think so.
We avoid using the term medical next to cannabis. Medical is more applicable to a location or a practice such as a hospital or a dispensary. Its use is also better suited when referred to a condition, problem or treatment.
On the other hand, medicinal is defined, according to the Merriam Webster dictionary, as "tending or used to cure disease or relieve pain." Unfortunately, cannabis cannot cure any disease, but it can definitely relieve pain and help treat several other medical conditions.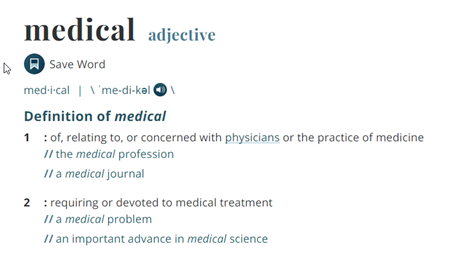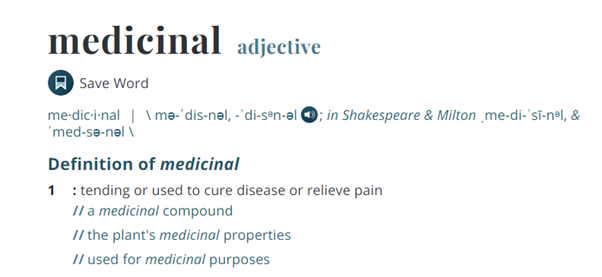 Bedrocan's glossary
Medicinal cannabis, n: cannabis, or a product derived from cannabis, that is intended for medicinal use. Also, likely is: (i) prescribed by a trained medical professional; (ii) for a known medical condition or a set of conditions where it has proven to be an effective treatment; (iii) for which there is research demonstrating its efficacy as a treatment and/or where other treatments have been ineffective.
What about the term medical marijuana or weed?
Medical marijuana or marihuana is also being used to refer to medicinal use. In some countries, patients are forced to turn to products meant for the adult recreational market, often from the same outlet or delivered by post. Whereas in the Netherlands and in many other countries where Bedrocan is available, patients can access pharmaceutical-grade medicinal cannabis, not marijuana, through their pharmacy on prescription.
We avoid the term medical marijuana or weed as much as we can because it is linked to recreational use. Bedrocan believes in the strict separation between medicinal cannabis and cannabis for recreational use. We are committed to providing a pharmaceutical product that is only available on prescription for patients who benefit from it. We are entirely focused on this assignment. Besides that, the word cannabis is directly linked to the plant name: Cannabis sativa L. So why look for another term when one is already available. A nice side effect is that this scientific name fits a science driven company like us perfectly.
Cannabis, marijuana or weed?
Cannabis goes by many names. Marijuana, gañjā and hemp being the most well-known. Other less salubrious names include weed, pot or smoke.
Hemp is associated with the fibre-type cannabis plant, low in THC. Marijuana is most used in the Americas, while gañjā and derivations of the word are used in India and South-East Asia. Another well-known word is hash or hashish – a THC-rich resin extracted from the cannabis plant.
Regardless of all these terms and their differentiation by type (Indica, Sativa, Ruderalis), the term is now commonly accepted as simply Cannabis sativa L., or just cannabis. However, when produced pharmaceutically and used for medicinal purposes, the term medicinal cannabis is most appropriate.
Science is shaping how we talk about medicinal cannabis
Today, science shapes how we think and talk about medicinal cannabis. Along with like-minded companies, science is at the heart of Bedrocan. Our research programme focuses on advanced cultivation techniques and the development of unique, standardised cannabis strains for use by patients and the pharmaceutical industry. Other companies are taking steps toward registering cannabis-based medicines and medical devices (e.g. Epidiolex, Syqe). While, at a global level, the United Nations International Narcotics Control Board (INCB) is currently preparing a guideline of good practices. Driven by scientific evaluation, this global regulatory framework aims to achieve greater uniformity in good practices around cultivation, manufacture, distribution and global trade of cannabis for medicinal and scientific use.
All these actions are helping shape the future – including how we talk about cannabis for medicinal use and a broader acceptance of its use in more countries around the world.