'Cannabis-oil quality should be beyond dispute'
Infinity Pharma in Helmond, the Netherlands, is a pharmacy that works with regular medication as well as 'new' medicinal products, such as cannabis oil. It is one of the four pharmacies that compounds medicinal oil from standardised medicinal cannabis under the supervision of the Dutch government, and in accordance with GMP guidelines. The Office for Medicinal Cannabis in the Netherlands oversees the whole process. "The demand for cannabis oil is high and we like to meet it. But it has to be produced responsibly."
Until the 8th of August 2018, Infinity Pharma was known as GMP Apotheek Mierlo-Hout, a well-respected pharmacy with advanced medicinal knowledge and a strong dialogue between prescribers and patients allowing for 'personalised medicine'. This led to a desire to produce cannabis oil in-house which could be issued to patients on the basis of a prescription. "We saw an increase in the interest in cannabis oil and we did not want to ignore that", says Key Account Manager Loes Haast.
Medicinal cannabis
"We followed the developments around medicinal cannabis closely and trusted our own knowledge to be able to compound the oil responsibly. The fact that the Dutch government has made medicinal cannabis that is highly standardised and produced under GMP available for some years now provides a responsible basis. On top of that, Transvaal Apotheek in The Hague helped us with setting up the production. They already had the experience and we weren't looking to reinvent the wheel. Furthermore, it is important to patients and prescribers that the products we offer are of the highest quality with minimum risks."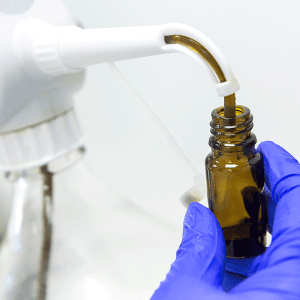 Fagron Group
The Helmond pharmacy Infinity Pharma is part of the Fagron Group that has 200 pharmacists in more than 50 sites on 5 continents. Rafael Padilla, CEO of Fagron, used to be a pharmacist and aims to roll out the Infinity Pharma concept in Europe. The site in Helmond is the first of its kind and serves patients and consumers from the Netherlands, Belgium and Germany.
Fully in line with the history of the pharmacy in Helmond and the mission and vision of the parent company, Infinity Pharma offers regular medication alongside 'personalised' products. The pharmacy strives to have customised products for each patient and uses its own system of medication control to avoid risks.
Portfolio
The portfolio has been subdivided into the product groups: 'pharmaceuticals', 'nutriceuticals' and 'cosmeceuticals'. Digital Transformation Manager Dimitri Lambrecht informs us that all are produced state of the art and are offered in clearly recognisable packaging. "We keep our eyes open for new products to serve patients and consumers in the best possible way. We make a clear distinction between products that may only be issued on prescription and products that may be sold over the counter or online. That distinction is reflected in the packaging. Under the flag of nutraceuticals we also offer a self-care product based on CBD. This oil can be produced responsibly and in contrast to most CBD oils, the consumer can check the ingredients exactly. Cannabis oils are of the product group pharmaceuticals, thus available on prescription, and are produced using Bediol®, Bedica®, Bedrocan® and Bedrolite®, the latter exists in two versions."
FTO module
Apart from serving patients and consumers, Infinity Pharma also aims to share knowledge. This happens at the pharmacotherapeutic meeting (FTO), with one module solely focussed on medicinal cannabis and cannabis oil. During the FTO, doctors and colleagues receive comprehensive information from pharmacist Joris Cornelissen. "We base ourselves on scientific facts and not on anecdotal evidence", said Loes Haast. "Our profession requires an enormous amount of responsibility and we take that extremely seriously. That applies to the information we provide to patients, doctors and colleagues, but also to the parties we work with, such as the suppliers of raw materials and equipment."