History is made: from flos to cannabis oil
The Dutch Transvaal Apotheek is a pharmacy with a history. The library contains books from 1889 and according to the website one of the clients has been coming here for more than seventy years. Under the leadership of Paul Lebbink and Arwin Ramcharan, in 2015 they made medicinal cannabis oil available in the Netherlands for the first time.
With this, the pharmacy from The Hague made headlines both in the Netherlands and abroad, much to the surprise of the Transvaal Apotheek staff. "The impact was larger than expected", Arwin Ramcharan, chemist and QA at Transvaal Apotheek, remembers.
OMC
Since 2003 Dutch patients have access to medicinal cannabis flos. The cannabis programme is run by the Office for Medicinal Cannabis (OMC) on behalf of the Dutch government. Ramcharan about this time: "As pharmaceutical chemist we were already well acquainted with the dried product and many of the users. But once we had refined the production process and the oil was released onto the market, the demand proved to be much greater than expected." The pharmacy currently serves patients throughout the Netherlands and sometimes even abroad. The oil, which is available in five different varieties, is used for a multitude of conditions, with pain, epilepsy, glaucoma, migraines, nausea, infections, restlessness and insomnia, spasms and decreased appetite being the most common.
Cystic fibrosis
The Dutch pharmacist made history again in 2017. The Transvaal Apotheek started to fight big pharma with their own cost-effective alternative to exorbitantly priced medication for cystic fibrosis.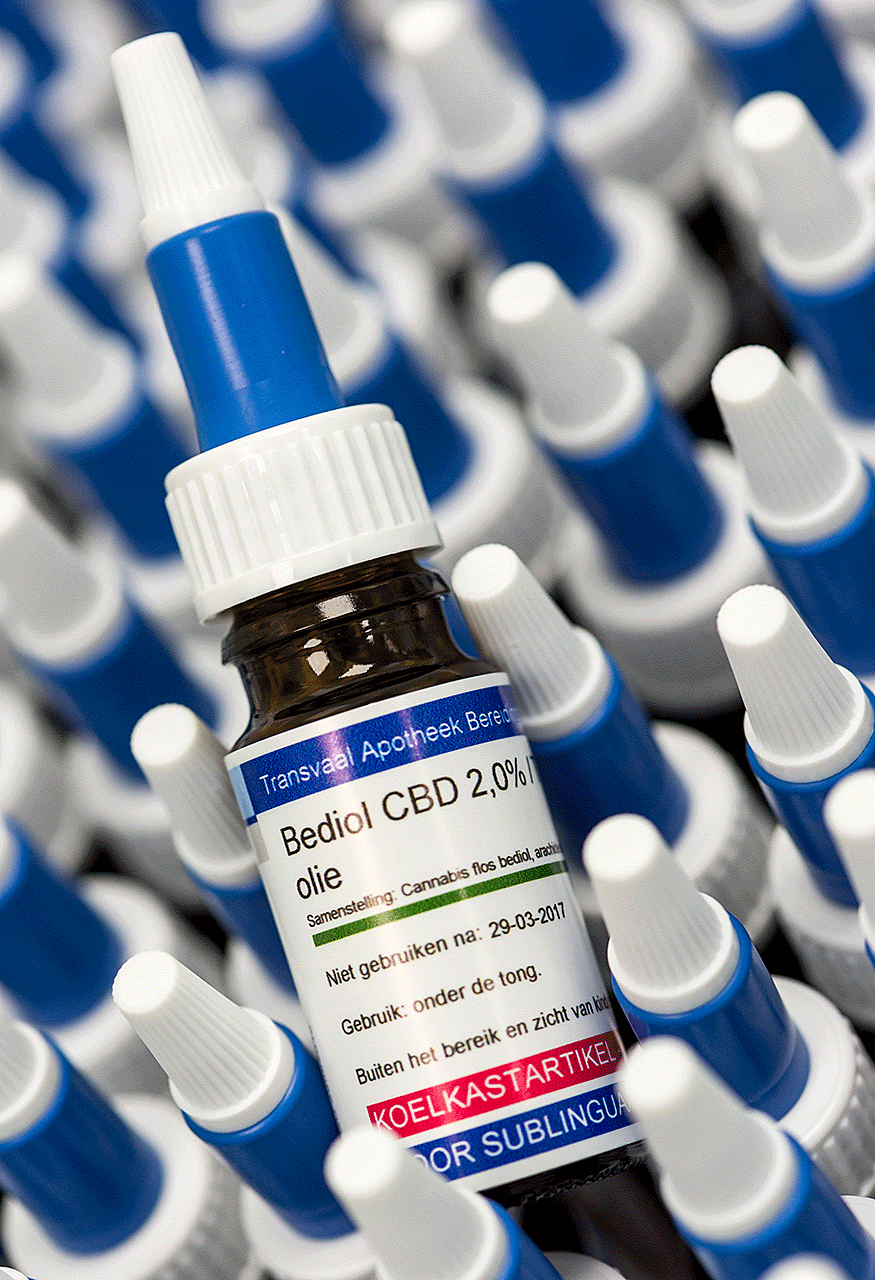 Patients in the Netherlands can only get the oil on doctor's prescription. They can obtain it at the counter or have it delivered to their home by 'medical post'. The number of patients who come to The Hague from neighbouring countries to take home oil is gradually increasing. They need a doctor's prescription and – of course – permission to bring the cannabis oil home. Ramcharan: "We mainly see patients who have tried all other types of medication and who have become more or less therapy resistant. They have heard of medicinal cannabis, but they also want a product with known contents and a traceable origin. And they often appreciate receiving guidance from their physician and the chemist. The price of the oil is sometimes the subject of a debate, but most patients understand that the production requires investing in equipment and knowledge and that this is a labour-intensive and strictly-controlled pharmaceutical production process."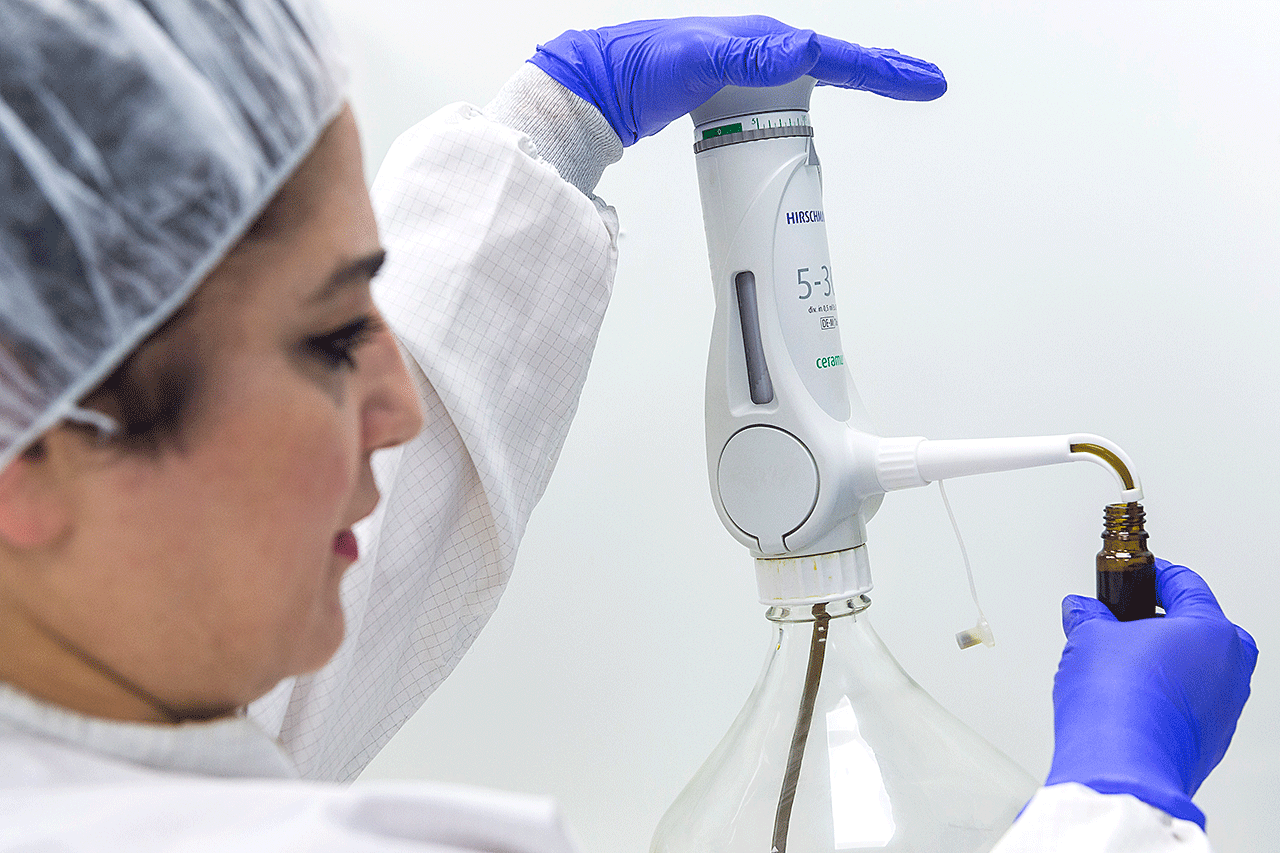 Magistral preparations
Cannabis oil is a commonly used form among patients who administer their medication themselves because it is easy to dose. Transvaal Apotheek is one of the last Dutch pharmacies that still make magistral preparations so it came as no surprise that Ramcharan and his colleagues were asked to produce cannabis oil. "The request for oil came from the BMC and was initially aimed at young patients", Ramcharan says. "In approximately nine months time we, in collaboration with (then still) pharamcist-in-training Svenja Laarhuis and researcher Arno Hazekamp, created a standardised process for the preparation of oil with mainly CBD, based on the then new Bedrolite® brand. After a large number of trial runs and tests we were able to start supplying oil to our patients in 2015. We were lucky to have good active pharmaceutical ingredient." Bedrocan products are being used for the production of the oils. Ramcharan: "The medicinal cannabis available through pharmacies in the Netherlands is standardised and extensively tested on contents and the absence of contamination. It is also produced in compliance with GMP which prevents unnecessary discussions. And… our oil is also extensively tested. Because if you supply a medicinal product while being unsure about its quality and safety, you are on the wrong track, to put it mildly. The responsibility is simply too great."
Other pharmacies
Transvaal Apotheek is no longer the only pharmacist in the Netherlands that is allowed to produce cannabis oil. Three other chemists also received permission and have started production and deliveries in the last few years. Two of these received guidance from Ramcharan and his colleagues. "These pharmacies thought it was unnecessary to re-invent the wheel and wanted to start production of medicinal cannabis oil as quickly as possible, while also assuring top quality", Ramcharan says, who thinks a standardised way of working is important. "We think it is important to work in a standardised way and to use the same ingredients. This way you produce the exact same product every time, which means you can make statements about the effects and possible side effects in the long run."
In the meantime the pharmacists exchange information and thus collect clinically relevant information. Ramcharan says: "Especially in the case of medicinal cannabis, everyone is waiting for clinically relevant information. Collaborating with other dispensers can also reveal information about the application of medicinal cannabis for other conditions. We therefore have collected information about migraine patients."
According to Ramcharan, more patients can be followed by the collaboration: "In collaboration with a specialist, our chemist is currently monitoring a group of approximately 20 epilepsy patients. We are seeing, for example, positive effects from the administration of CBD. But we can now also provide information about possible side effects. As soon as we are able to broaden and deepen the scope of this type of research, we will gain access to incredibly valuable data. Not just for patients and professional care providers, but also for researchers."